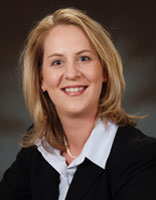 Bethany M. Kaye is Employment Matters Counseling & Consulting's Michigan partner. With over fifteen years of combined employment law and human resources experience, Bethany focuses her practice at EMC2 on counseling employers regarding good employment practices. Bethany regularly conducts training on wage and hour matters, sexual harassment prevention, and employment law compliance. Her clients include those in the software, biotechnology, and retail sectors. She also frequently conducts independent investigations on behalf of employers and their litigation counsel. Bethany assists individuals with the negotiation of employment and separation agreements.
Prior Experience
Before joining EMC2, Bethany was a member of Cooley Godward LLP's Labor and Employment Group, where she provided employment litigation and counseling services to a variety of privately-held and publicly-traded corporate clients, particularly those in the high technology and biotechnology sectors. At Cooley Godward, Bethany advised founders, board members and human resources professionals through all stages of a company's life cycle. Previously, Bethany had been an associate with the San Francisco office of Littler Mendelson, PC, the largest law firm in the United States devoted exclusively to representing management in employment, employee benefits and labor law matters. At Littler Mendelson, Bethany worked with Fortune 500 clients in employment litigation and traditional labor law matters. She was also an author and editor for the National Employer publications from 1998-2000.
Education
Bethany earned her Juris Doctorate, cum laude, from the University of San Francisco, School of Law, where she was Editor-in-Chief of The University of San Francisco Law Review and co-authored the comment, In Violation of Public Policy: Employment Law In California's Second Appellate District, 31 U.S.F. L.Rev. 1017 (1997). Bethany earned her Bachelor of Arts in English Literature from the University of Michigan in Ann Arbor. Prior to law school, Bethany was a Labor Relations Associate for the Ford Motor Company.
Memberships & Affiliations
Bethany is admitted to practice in California and Michigan.